Softsystems.ai
Privacy Policy
Personal data protection policy
Last updated: November 20, 2018
Softsystems is committed to the protection of personal data. It is dedicated to ensuring the highest
level of protection for your personal data in accordance with the European and
French regulations applicable in terms of personal data protection.
For any information on the protection of personal data, you can also consult the site of the
Commission Informatique et Liberté https://www.cnil.fr/.
Who is responsible for processing my personal data?
Softsystems – RCS Nanterre 843 877 531 – 49 rue Voltaire – 92300 Levallois-Perret.
Why does Softsystems collect my personal information?
Softsystems uses your personal information primarily for the following purposes:
Payment for your services.
When you pay on our sites, your payments are secure. does not collect payment data
but only a payment ID and the first 6 and last 4 digits of your card
to allow you to recognize the card that was used for the payment All of your banking information is
collected only by our PCI-DSS certified payment service provider, which guarantees
the security of payments.
The data controller is the company that determines for what purpose and how your personal data
are used.
The personal data collected on the site are processed by :
Softsystems RCS Nanterre 843 877 531 and domiciled 49 rue Voltaire 92300 Levallois-Perret .
Management of orders and customer relations
We need information about you for the management of your orders and their follow-up (e.g., invoices
of this one (for example the invoices, the accountancy and in particular the management of the customers accounts, follow-up of
customer relationship, such as the realization of satisfaction surveys, the management of the complaints and
after-sales service, selection of customers for analysis.
Payment at the time of purchase
When you pay for an order, the card used for payment is kept for the time necessary for the
transaction and then for a period of 15 months from the date of payment in order to guarantee the proof of the
transaction.
Payment for maintenance.
If you have subscribed to a maintenance service or any other subscription service, the card used for
payment at the time of subscription is recorded for the purposes of payment
for your subscription in tacit renewal.
Registration of your credit card in the electronic wallet
If you have accepted to register your credit card to facilitate future purchases, your card
is associated with your Softsystems customer area under the heading "My payment methods" and is kept for this purpose
for the duration of the card's validity as long as you wish to associate it with your customer
account. You can delete it at any time by going to your customer account- heading
"My payment methods" or by informing us.
Personalization of our services and the messages we send you
The data concerning you allows us to improve and personalize the services that we
offer you and the messages we send you. For example: we may
send you personalized emails or recommend products similar to those you have already purchased or
or consulted and which correspond to your centers of interest.
We collect certain navigational data to enable us to ensure the security of our services and to
detect, prevent or trace any attempt at malicious intent or computer intrusion
or any violation of the terms of use of our Services.
Customer insight and site statistics and performance
We may use data to better understand our customers or for statistical purposes to
analyze our site activity and improve the services we offer. We measure
the number of pages viewed, the number of visits to the site,
as well as the activity of the visitors on the site and their frequency of return.
What personal data is collected about me?
What data?
We collect and process your company name, surname, first name, address, email address, telephone number,
IP address, connection data and navigation data, order history.
The mandatory or optional nature of the data is indicated at the time of collection by an asterisk.
Some data are collected automatically because of your actions on the site.
When do we collect it?
We collect the information you provide us with, in particular when:
you create your Customer Space on our sites.
you place an order on our sites.
you browse our sites.
you contact our Customer Service
you write a comment
What communications am I likely to receive?
– Information and newsletters
Following an order or as part of the follow-up of a contract, you will receive an email to
allow you to track your order or the execution of your contract (order confirmation,
information on the performance of your service, information on the expiration of your subscription
maintenance). These service messages are necessary for the proper execution of orders and
services you have requested. Receipt of this information is not linked to the choices you
will have expressed for the reception of newsletters and commercial offers.
For example: you may occasionally receive the information necessary for the execution and
proper management of Softsystems service contracts (in particular information on the status of your account,
expiry of your contract…).
Following the creation of your customer area and if you have not opposed it, you will be able to receive
information and offers from Softsystems by electronic communication (email, sms, etc.). Those
newsletters allow you to keep up to date with Softsystems news and the benefits you
can benefit. We measure the opening rate of our electronic mailings in order to adapt them to
better fit your needs.
If you have not opposed it (excluding prospecting by automated calling machine which will be submitted to your
express agreement) you may be contacted by our operators to provide you with offers and services
in connection with those you have purchased.
On what legal basis and for what durations are my personal data processed?
The processing of your personal data is justified by different grounds (legal basis) depending on
our use of personal data. You will find below the legal bases and duration of conservation that we apply to our main processing operations.
conservation that we apply to our main processing operations.
Legal basis for processing:
The contract: the processing of personal data is necessary for the performance of the contract to which you have consented.
Consent: you agree to the processing of your personal data by giving consent. You can withdraw this consent at any time.
Legitimate interest: Softsystems has a commercial interest in processing your data that is justified, balanced and does not infringe your privacy. With some exceptions, you can object to processing based on legitimate interest at any time by notifying Softsystems.
The law: the processing of your personal data is made compulsory by law.
Retention periods:
Most of the data (for example information from your Customer Space and order history are kept as long as you are an "active" customer and for a period of 5 years from your last activity (for example purchase, connection to your Customer Space or expiry of a contract or guarantee. Your data will then be archived with restricted access for an additional period for limited reasons authorized by law (payment, guarantee, disputes, etc.). After this period, they will be deleted .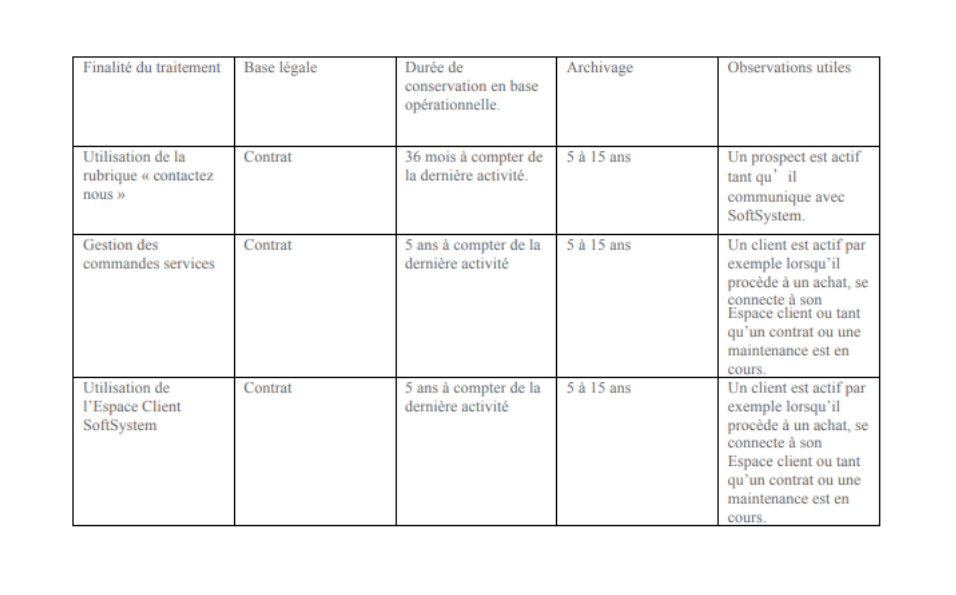 Who are the recipients of my data?
Data transmission to subcontractors
The data that we collect are not transmitted to service providers (subcontractors) – to whom Softsystems
calls for the realization of its services.
How to express my choices on the use of my data?
We are actively working to improve our manager of choice, accessible in your Customer account
in order to allow you to better control the use of your data.
You can withdraw your consent at any time or formulate an opposition concerning the use of your
data described above:
– at any time
By email to the address: contact@softsystems.ai
Via the contact form https://softsystems.ai under the heading, contact us
By mail to the address:
Softsystems
49 rue Voltaire
92300 Levallois-Perret.
If you proceed via the online contact form or by mail
It is advisable to indicate to us your name, first name, e-mail and address and mentioning the reason for your request.
and / or the right you wish to exercise.
In order to allow us to fully understand your request, you can specify the following reasons:
– For stopping commercial prospecting: "Stop email Softsystems"
You can also manage your cookies by going to the cookie manager located on the page
information cookies or on the websites below: http://www.networkadvertising.org/choices/
http://www.youronlinechoices.com/
What are my rights with regard to the use of personal data?
– For the deletion of your Softsystems customer account
"Delete my Softsystems customer account"
In accordance with the regulations on the protection of personal data, you can exercise your rights
(access, rectification, deletion, opposition, limitation and portability if applicable) and define the fate of your
"post mortem" personal data via the contact form
https://softsystems.ai under the heading, contact us or by mail to the address: Softsystems 49 rue Voltaire
92300 Levallois-Perret.
In order to allow us to respond quickly, we thank you for indicating your name, first name, email,
address and if possible your customer reference. Certain requests to exercise your rights (right of access)
must be accompanied by a photocopy of an identity document bearing your signature in order to verify your
identity and specify the address to which you should receive the response. A response will then be sent to you in
a period of 2 months following receipt of the request.
You also have the right to lodge a complaint with the National Commission for
Computing and Liberties (CNIL), in particular on its website www.cnil.fr.
Softsystems has a Personal Data Protection Officer (DPO) responsible for ensuring the
Protection of personal data. You can contact the Data Protection Officer
from Softsystems at Contact@softsystems.ai (excluding the exercise of your rights which are carried out mainly via
the contact form https://softsystems.ai under the heading, contact us).
What about the personal data of minors?
Softsystems services are not intended for Minors therefore Softsystems does not deal with
data specifically concerning minors.
What use of data in connection with Social Networks?
Softsystems does not transmit any personal information to social networks.
Geolocation
Softsystems does not use geolocation.
Changes to this Privacy Policy
We reserve the right to modify this Privacy Policy at any time. The version
Most current of this policy governs our use of your information and will always be available at the
section, contact us at https://softsystems.ai.
49 rue Voltaire
92300 Levallois-Perret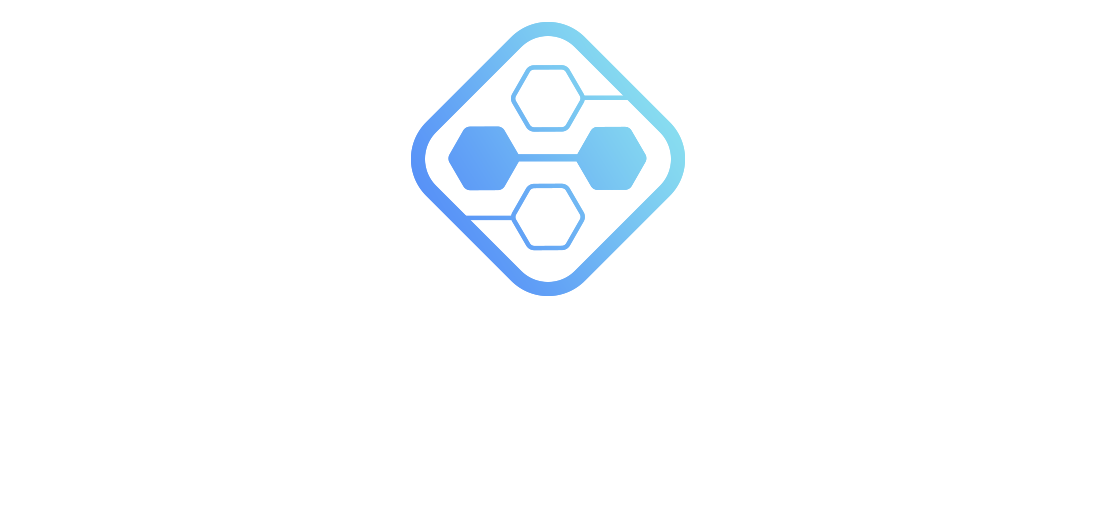 As part of the registration on the SoftSystems.ai site, your data is processed by SoftSytems as data controllers. They will be used exclusively for the purposes of sending the information you have requested. You can withdraw your consent at any time by sending an email to the address contact@softsytems.ai, asking to unsubscribe. For more information on our privacy policy Please click here.